If you need a new doorbell for your home or business, the easiest path for you would be to choose wireless. However, the majority of homes do have existing wiring for a doorbell, even if it no longer works. Often, you can use the existing wiring and add a new doorbell button and indoor speaker.
If your home is already wired to include a doorbell, or is just being built, you're in a true either/or situation. You can just make your choice about wireless vs. hardwired doorbells based upon whether you like the features and flexibility of a wireless doorbell. Or you may decide that you prefer the large selection of decorative doorbell styles available for hard-wired doorbells, allowing you to compliment your home's decor perfectly.
Wireless doorbells have more features, but fewer designer options. Many wireless doorbells offer functional plain white or beige components, with a few more elaborate designer styles. If you choose a hard-wired doorbell, however, you will find lots more designer choices. Looks range from retro brushed steel to ornate, antique metallic scroll designs to sleek, polished wood doorbell covers.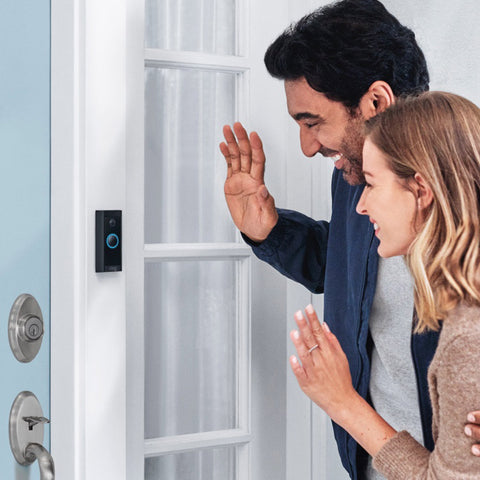 What's Good About Wireless Doorbells?
Affordable and versatile, battery-operated wireless doorbells can be placed almost anywhere and take just minutes to install. Radio waves connect the transmitter (the outdoor button or buttons) to the receiver (the bell or speaker inside the house). This renders physical electrical wiring unnecessary. Here are some of the advantages of wireless doorbell technology:
Versatility: It's simple to move the location of a wireless doorbell to better fit your home's layout.
No changes to the house are required: Some people would rather not drill holes in their walls (although they are very small holes) and run wiring. No holes are needed to a wireless doorbell.
Simple installation: The transmitter button can simply be attached to the wall with the adhesive strip on the back of the unit. The indoor receiver may plug into the wall or run on batteries.
Range is sufficient for most homes: The range of wireless doorbells has been improved to the point that the radio signals, transmitted from the front porch doorbell button, to indoor receiver can be heard throughout the entire house. Signal ranges vary from 150 feet up to 1000 feet.
Extenders are available: If you have a large home, extenders (additional receivers) are available to relay the doorbell signal for larger property. There are also portable receivers that you can take with you. These are handy if you're working in the back yard or garage.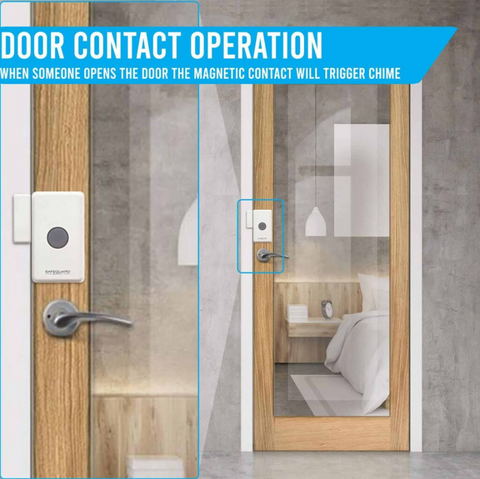 Multiple channel operation: With this feature, your wireless doorbell avoids interference from a neighbor's doorbell. If your bell is sounding when the neighbors have a visitor, simply change the frequency of your doorbell to another channel.
Battery powered with long-life batteries: The transmitter buttons are typically powered by long-life lithium batteries, which are usually supplied with the transmitter. The receivers inside the home may plug right in to a wall outlet – or may be run by batteries. (These batteries are not usually supplied.) Most wireless doorbells will operate for up to 2 years before battery replacement is needed.
Chime variety: If you'd like to have the option to change the doorbell tone, tune or melody, many wireless doorbells offer several choices – some even offer 50-plus. This multi-tone capability is also helpful if you want to use multiple doorbell buttons, for instance front door, back door, side door, etc. You can assign a different tune to each door.
Advanced features: Some wireless doorbells offer security and convenience options like intercoms, motion detectors and/or window sensors. There are also models that offer a visual signal – a flashing light – along with (or instead of) the audible doorbell. These audible and flashing light doorbells work well for the hearing impaired. The visual signal is also handy for a business where the noise level would prevent you from hearing a doorbell.