Do you already have a doorbell?

If you have an existing, working doorbell the chances are you can install a wired smart doorbell. A wired-in buzzer is a better bet than battery-powered because you don't need to worry about charging it and it will ring your existing doorbell chime. They're also more reliable for capturing all the action on your doorstep compared to their wire-free siblings, which have to "wake-up" before they start recording – resulting in the common "back of the head problem" (when all you get is a clip of someone walking away). The downside is a more complicated installation process, which you might need to call an electrician to carry out.

Video quality matters
While you're likely tired of hearing about how any megapixels the newest smartphone camera has, when it comes to security camera footage quality matters. You want at least 1080p HD resolution or you'll be left with barely visible recording. Super HD (1440p and higher, also known as 2K) is a bonus and gets you sharper, clearer images. Digital zoom, 6x or higher, is also something to consider – especially if you might want to zoom in on a licence plate number as it sideswipes your parked car. And unless you have an always lit front porch, night vision is a must.

Don't fall for cloud storage subscriptions
If you just want to see who's at your door when they're there, and bark instructions at them from behind the safety of your smartphone screen, then you don't need to pay a monthly subscription. But if you like the idea of literal "visual voicemail" for your house, pony up a few quid a month and get recordings of anyone who comes to your door (whether they press the button or not).

Do consider smart features
Features that cut down on how many times you need to pull your phone out of your pocket to check on your front door include customisable motion zones to cut out a busy street and smart notifications that only alert you if there are people or packages on your porch. Some of these require a subscription.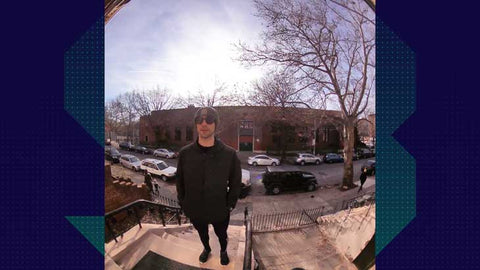 Do you need assistance?
If you have a smart speaker or screen, look for a doorbell that works with your choice of virtual assistant. Both Amazon's Alexa and Google's Google Assistant speakers can broadcast a message when your doorbell is pressed, and the smart screens act as a video intercom so you can see and speak to your visitor without having to pull out your phone. There are no smart doorbells that work with Apple's HomeKit.

Make sure you have decent Wi-Fi
They're Streaming video from your doorbell takes a fair bit of bandwidth and if you don't have strong Wi-Fi by your front door, you'll struggle to get a good connection and reliable images. Check how strong your Wi-Fi is there before buying, and if it's weak consider installing a Wi-Fi extender.

Don't film your neighbours
A video doorbell records audio and video so falls under CCTV regulations. And, as it's likely to see spaces outside your property – such as public streets or a neighbour's walkway, any recorded footage falls under the General Data Protection Regulations act. If you are only using live streaming it's not a problem, but if you are recording video be careful and be sure to use the included stickers that come with your smart doorbell to advertise to visitors they're being recorded.

Audio is even more problematic in terms of privacy, but some companies – such as Ring – let you disable it completely if you're worried. Facial recognition technology, offered by Google Nest, is another potential legal minefield still being tested in the courts, so proceed with caution.

Do watch out for your own privacy and security
When you bring internet connected devices into your home there is a risk they may be "hacked" by nefarious parties, or your data (in the case of smart doorbells – your videos) used in ways you don't agree too. Of note, Amazon-owned Ring and Google-owned Nest have both had problems with cameras being hacked in the US, and Ring has come under scrutiny by privacy advocates in the US and UK for its partnerships with local police departments.

There are two things you can do: enable two-factor authentication on your accounts so you are the only person who can access them, and only buy products from well-known companies whose published privacy and data policies you're comfortable with.