Yesterday's bulky, conspicuous video surveillance cameras looked like anti-aircraft weapons standing guard over otherwise ordinary homes and businesses. Today, security cameras come in sleek designs, are easy to self-install, and come equipped with app-based technology that puts control in the palm of your hand. Enter the video doorbell camera, also called video doorbells, the latest trend in cheap home security. The doorbell camera has become the bane of burglars and porch thieves and a crime fighting tool for law enforcement agencies and neighborhood watch groups.
How Do Doorbell Cameras Work?
Video doorbells connect to your home network via wifi. With built-in motion detection, doorbell cameras record video whenever someone comes within range. But unlike old-fashioned security systems, which recorded grainy black and white video on video cassette recorders, video doorbells capture digital, high definition color video. Many doorbell cameras also feature night vision technology, which can capture clear images of nighttime prowlers.
The difference between new and old camera technology does not end with image quality and recording format. Most doorbell cameras integrate with apps designed for Android and Apple devices such as smartphones and tablets. When a visitor or thief triggers your video doorbell, it sends an alert to your app, enabling you to view a live stream of the action occurring on your doorstep. Many doorbell cameras also feature built-in microphones and speakers, enabling you to carry on a two-way conversation, whether you are inside your house or away from home.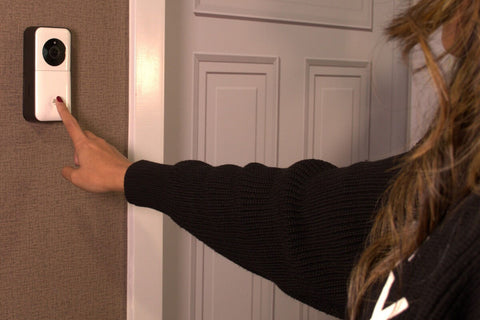 Various sources can power a video doorbell, depending on the brand you choose. For instance, the Ring Video Doorbell 2 comes equipped with a rechargeable battery pack but can also hardwire directly into an existing AC-powered doorbell system for continuous charging. On the other hand, the Skybell HD Wi-Fi Video Doorbell requires an AC connection. Many manufacturers have designed their doorbells to integrate with existing door chimes to give you two types of alerts: the notification sent to your mobile device and the traditional "ding dong" sound.
Many doorbell camera apps come packed with functionality. For example, using the Nest Hello Video Doorbell app, you can arm and disarm a Nest alarm system and operate smart home devices such as smart lights, garage doors and thermostats. Most video doorbell apps enable you to see live streams from connected cameras and access video footage from your alarm system or cloud storage.
Video Doorbells Enhance Neighborhood Security
The instant notification functionality of doorbell cameras helps fight crime in two ways. By receiving an immediate alert, you can quickly contact the police, increasing the chances of apprehending a perpetrator. You can also send high-definition video to authorities from which they can glean valuable details, such as a perpetrator's facial features or license plate number.
Ring is taking shareability to an even higher level with its Neighbors program. Ring users who opt into the Neighbors program can upload messages and video, which other Ring systems owners and police departments can access. The Neighbors app includes list and map interfaces, which enables users to see crime incidents in their area, giving them a heads-up to take precautions. It is like a virtual neighborhood watch program, which provides real-time reports on a broader level than just your home and block.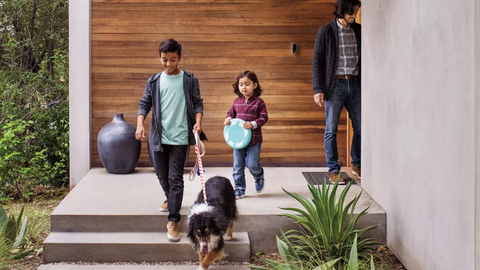 Doorbell Cameras Provide Peace of Mind for Homeowners
Homeowners and renters install video doorbells for various reasons. In our internet-driven consumer world, some doorbell camera users simply want to protect packages delivered to their doorsteps. Some video doorbell users enjoy the ability to communicate with visitors, even when they are away from home. Working parents can access doorbell camera footage to make sure their kids arrive home safely from school.
Many people install security devices after falling victim to thieves, but some forward-thinking homeowners turn to video surveillance to head off trouble before it occurs. After a spate of burglaries in her Memphis neighborhood, Adrienne Timberlake and her family decided to install a Ring Video Doorbell 2. "We bought one as a test, since security has been on my mind," Timberlake said.