How Ring works
Ring operates on a simple concept. Someone presses your doorbell, and the signal travels through your WiFi network, up into Ring's cloud servers, and then back down to your smartphone. Once you open up the phone notification and get inside the Ring app, you can see who's at the door, and even talk to the person in a two-way conversation.
You can see them, but they can't see you—and this is what makes Ring a compelling home security device. Whether you're inside your home, at work, or on vacation, the system is designed to let you always answer the door.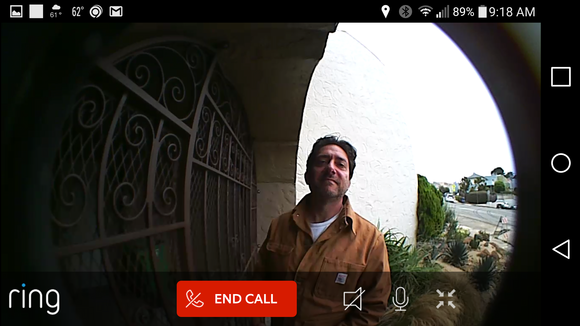 Doorbell delays
When Ring was working without a hitch, the time delay between someone hitting the doorbell and receiving an alert on my phone was almost non-existent. Mind you, sometimes it would take a while to get from the smartphone notification to Ring's video display (more about that soon), but at least there was very little lag in actually getting the notification itself.
But those were only best-case scenarios. Throughout real-world testing with visiting strangers as well as staged testing with friends, I oftentimes experienced very long latencies between the button press and a phone notification. Sometimes the lag would last up to three or four seconds. And sometimes I wouldn't receive any smartphone notification at all. Case in point: the hapless pizza delivery guy who pressed the Ring button two times before giving up, and calling my phone.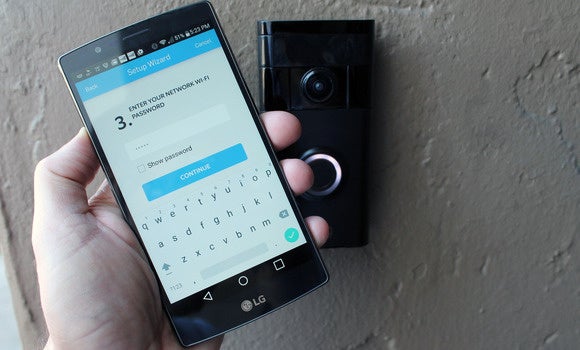 Installation: Easy-peasy
Ring can be hardwired to your existing doorbell's electrical leads, but lacking any doorbell at all, I opted to use the device's internal battery, which is charged with a USB cable (just like any typical mobile device), and is rated to last one year between charges. Pulling off the doorbell for recharging is a simple matter of removing two screws with a special tool that Ring provides, and then sliding the doorbell off a backing plate. It's no big deal.
The backing plate is designed to mount on wood, brick, concrete, stucco, and aluminum siding, and the kit includes installation parts, like screws and a drill bit, to provide everything you'll need. Unfortunately, using my cordless DeWalt drill, I couldn't penetrate my home's concrete, so I opted for heavy-duty double-sided tape. It works marvelously, and there's a failsafe even if someone steals the doorbell: Ring will replace stolen doorbells free of charge, as long as you provide a police report.